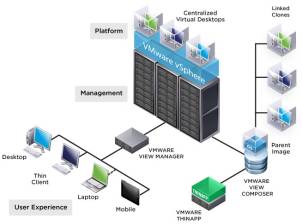 When it comes to virtualization, a name that stands out as one of the leaders in virtualization is VMware. VMware really has made some groundbreaking improvements when it comes to being one of the leaders in the industry. Some highlights of VMware show that:
Estimated 80% of all virtual machines run on VMware
100% of the Fortune 100 and 99.5% of the Fortune 1000 run VMware
These are some great statistics that show where VMware plays their role in the virtualization world.
If you never heard of VMware or aren't sure where to start here are some details to help you get started.
vSphere — Virtualization infrastructure for VMware. This is a feature included in the vCloud suite and is the ground framework for that company looking to get into the cloud infrastructure or keep that hybrid type setup. vSphere includes:
vSphere ESXI
vMotion

Allows for virtual machines to be live migrated from one server to another

DRS

Storage/storage pool load balancing

vShield

Strengthens security by offloading antivirus/anti-malware processes
This satisfies audit requirements for logging

Automation

Allows you to deploy patches and reduce time updating hosts and applications

High Availability

vSphere allows the machines to be automatically restarted if there is a system failure
Protects virtual machines/applications by creating automatic fail over procedures
Ensuring that highest level of uptime
There are three different types of vSphere editions: Standard, Enterprise, and Enterprise Plus
Features are very similar, but as you get to that Enterprise level you get benefits that would be geared more towards the Data Center compared to the small business that is looking for minimal downtime. Also as you progress up the levels, your vCPU (Amount of vCPU's that could be allocated to each VM)
There are also kits available that are great for small business or other kits designed for the medium/large business. This is perfect for the small/medium business looking to scale as the business grows
Pricing is based per processor and they have various choices for levels of support.
vCloud Suite — If you are looking for that all in one cloud infrastructure and want the ability to create an extremely efficient, dynamic datacenter and gear your company toward that Infrastructure as a Service (IaaS).
vCloud Suite includes:
vSphere

This also included everything that vSphere includes above

vCloud Director

Ability to build a virtual datacenter in minutes

vCloud Connector

Connects that hybrid-style approach between the cloud and data center

vCloud Networking/Security

Includes virtual firewalls
Security of data in and out of the organization
Load Balancing and virtual networks for virtual machines
VPN support for 3rd parties

vCenter (Advanced/Enterprise)

This is a site recovery manager for when routine maintenance needs to take place or a complete disaster recovery failover
Ensures that highest level of reliability

vFabric (Enterprise Only)

Automation of applications across the network
Pricing is also based per processor and have various levels of support/subscription levels.
Overall, these are the two major products that VMware has to offer, but within these two ideas, there are numerous editions to help get that proper fit between virtualization and your IT infrastructure.