LegaSystems IT Staff Augmentation Services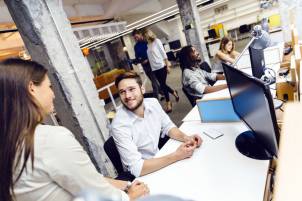 Do you have an immediate need for highly skilled and certified IT talent?
Do you have unfilled technical positions because of lack of qualified candidates?
Are your projects running behind because you are short-staffed?
Do you have a short term network engineering, administration or systems engineering augmentation need?
Do you need an IT resource highly skilled in a niche area to get a project off the ground?
We can help!
What we offer
LegaSystems offers a unique IT staff outsourcing strategy which consists of technology professionals highly skilled and certified in specific technical areas of expertise with direct escalation support from industry leaders — our partners; as well as hosted platforms for software and solution testing. Our team has the resources to staff your project quickly as well as rapidly respond to your business objectives. What sets us apart from the competition is that we do not go looking for resources to staff your project or critical need after that need is identified, we continuously employ, train, evolve and grow our existing team which creates value for the customer at the right moment.
What sets us apart
A dedicated engineer on-site or remote during the time shift you desire, our engineers are committed to you as a client, they work directly for us and are not in the middle of jobs.
A flat hourly rate for the number of hours per week you need coverage for.
Escalation support for issues by this engineer to our escalation team and to vendor support on partner priority level to our technology partners: Microsoft, VMWare, Citrix, Veeam, Cisco, Dell, Juniper, Manage Engine, Proxim Wireless and others.
For any product this vendor sells and a resolution is guaranteed for any vendor supported configuration where an issue or trouble occurs.
Free of charge demos and labs for any product that you are considering and piloting from our list of 10+ partners.
We can provide a dedicated private cloud software testing environment in our datacenter for proof of concept and test deployments.
Discounted support pricing and priority handling on LegaSystems value added cloud offerings: LegaCloud Platform as a Service, Cloud based Server and Application Monitoring, Cloud Disaster Recovery and Business Continuity; Microsoft ® Office 365 and Cloud VDI services.
Our IT staff competencies include:
Ongoing tier 3 support and issue resolution.
System Architecture, design and integration.
Directory Services and authentication.
Server and desktop Virtualization.
Application delivery and desktop virtualization.
Backup, Disaster Recovery and business continuity.
Operating System migrations, consolidations and upgrades.
Unified Communications, Cisco voice and Skype for Business.
Core Networking, switching and routing, security and compliance.
Information System Security, Encryption and data leak prevention.
Windows Operating Systems migration and upgrades.
Database systems design, optimization, migration and upgrades. LAN/WAN and wireless networking.
We are here to serve you: sales@legasystems.com