Hyper-V is Microsoft take on virtualization and has recently made some major enhancements to be a strong contender or soon to be new leader in the virtualization market. With their latest version, Hyper-V 3, numerous new features have been added to benefit that small business looking to streamline their virtual machines to even the large scale business to increase production with the utilization of their servers and reducing their operating costs.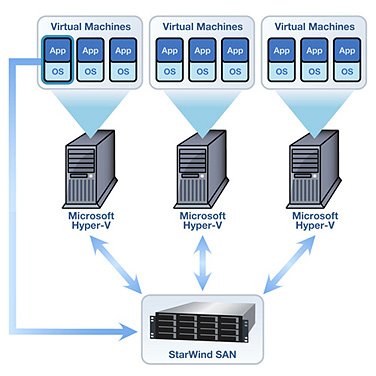 Microsofts Hyper-V is a built in product to their Server 2012 Operating System so a great point about this idea is if you already have Microsoft licensing, you already have what you need to get started!. This just means equals less overhead startup costs to get up and running if this is your first time getting virtualized and minimal infrastructure changes which in turn means less downtime and loss of production. Hyper-V is designed with the mindset of if you want an extremely powerful virtualization infrastructure, but without the hassles of choosing and purchasing additional add-ons.Other benefits of Hyper-V is its steps it's taking towards automation, scalability, high availability to ensure that "Always On" infrastructure, and disaster recovery to keep you prepared for anything that might come in between a smooth running network and unwanted downtime.
So with all that being said, if you have a VDI environment or want to keep that small network footprint? Do you want to have automation in place for less time needing to train and more time increasing network efficiencies or want to know your network has scalability for the future? How about from hardware failure to natural disasters, Hyper-V with Server 2012 is going to be for you!
Key Hyper-V Benefits
Low Operating Costs
No need for choosing add-ons
Network Virtualization with Hyper-V Switch
Designed to keep that great performance without adding more hardware (switches, servers, etc.)
Cloud Infrastructure Support

Through network virtualization, resources could be shared between your Hyper-V environment and Azure
Adds just another level of scalability to your network
With Hyper-V's cluster shared volumes, they have built in Microsoft BitLocker encryption to ensure your data gets to and from its destination safely and securely

"No Boundary" Live Migration

You could perform live migrations of virtual machines from one server to the other even if you do not have that host in the cluster.
Enhancing the ability of virtual machine availability across your network/datacenter

Live Storage Migration

Ability to move virtual hard disks while the virtual machine is still running
Reduce downtime when having to increase hard disk space or other hard disk tasks

Importing Virtual machines

A simple wizard to keep your virtual machines in tact for moving from one server or upgrading from earlier version of Hyper-V
The wizard even detects and corrects errors automatically
No export required

Automation

Powershell scripts to automatically failover virtual machines to different hosts to creating virtual machines
Over 150 Hyper-V cmdlets

Dynamic Memory

Ability to scale memory of a virtual machine in an "as needed" basis

VHDX

Hyper-V's new virtual hard drive that supports up to 64 TB of storage

Data Center Bridging

Benefits by not having to separate network traffic for storage, network management, and live migration

Virtual Fibre Channel

Fibre channel could connect directly right in virtual machines

Disaster Recovery

Asynchronous replication from host to host (Hyper-V Replication)
A backup copy gets stored at an additional data center to stay prepared for unplanned failures/outages
This means a failover process in minutes rather than hours compared to traditional recovery techniques

Failover Clustering/Live Migration

Ability to perform multiple live migrations at once for maintenance or those unplanned failures
Live Migration queuing for full server failures to ensure no data loss?
Failover prioritization to move key applications over before any other virtual machines

VDI Support

Deploy environments within a few clicks from a single console
Fair share so not one virtual machine takes up too much network resources
RemoteFX for a better graphics/multimedia performance in a virtual environment