LegaSystems is a Microsoft Gold Partner, Microsoft Cloud Partner, Microsoft Certified Licensing and Services Provider. LegaSystems is an employee owned company — meaning that every employee is vested in the success of our customers. Our engineers are experts in the field, collectively we hold over 100 technology vendor certifications.
What do we Offer?
Microsoft Office 365 ® Cloud Business Productivity suite with Premium Support and hosted monitoring — free trial for 30 days.
What does our

O

f

fice 365 for E

nterprise

Proposal

Include?
Microsoft Office 365 Enterprise E3 Subscription. Office 365 combines the familiar Microsoft Office desktop suite with cloud-based versions of Microsoft's next-generation communications and collaboration services.
LegaSystems Premium Support for Office 365. Premium Support Services for Office 365 designed to provide superior, ongoing support for Office 365 environment.
System Center Operations Manager Monitoring for Office 365. Monitoring services that go far beyond traditional monitoring services with in-depth health checks, analysis and trending to proactively identify issues requiring remediation.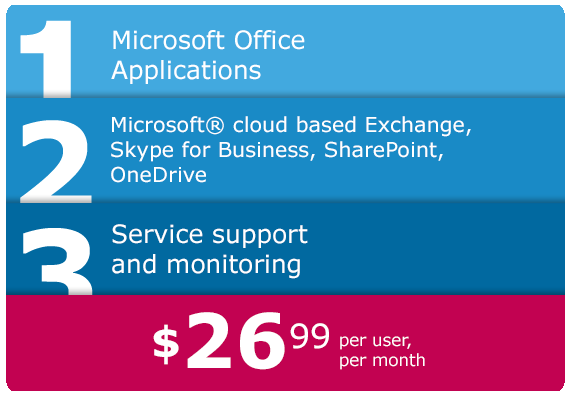 The Service that we Offer, what problems does it solve?
Eliminate high capital expenditures on hardware and software, electricity, maintenance and support.
Reduce administrative overhead: eliminate time spent on updating, patching and planned downtime.
Eliminate the need to upgrade and replace server infrastructure.
Focus on strategic benefits
Improve uptime
What are the Main

o365 Features and

Benefits?

Business-class email Large, 50GB mailboxes that can send messages up to 25MB in size, with contacts, shared calendars, and spam and malware protection that stays up to date. Built with Exchange email technology, the leading email solution for business around the world.

Online meetings Hold scheduled or ad hoc online meetings for up to 250 participants, with screen sharing, audio and video, virtual whiteboards, polls, and shared notes. Partners and customers can fully participate through any HTML5 browser.

Online document storage and file sharing 1TB of space in the cloud to store, backup, and easily share files. Files are accessible from almost any device, and can be synchronized offline and made available without an Internet connection.

Private social networking and collaboration A social network that helps your company stay connected, share information across teams, and make faster, more informed decisions.

Technical support Premium Support Services for Office 365 are designed to provide superior, ongoing support for your Office 365 environment. Team of dedicated, expert administrators, developers and engineers complement your resources, reduce the ongoing administrative burden and maximize your Office 365 investment with a predictable monthly operating expense.

Comprehensive Monitoring Resolve issues as they occur rather than waiting for users and business stakeholders to report them. Our services go far beyond traditional monitoring services with in-depth health checks, analysis and trending to proactively identify issues requiring remediation.

Simplified IT Management Reduce headaches by reducing your IT infrastructure. Content lives safely in globally distributed datacenters with continuous backup and disaster recovery abilities.

Financially-backed SLA Get peace of mind knowing your services are available with a financially-backed 99.9% uptime service level agreement.
Office 365 and the Cloud Changes how Work is Done…

Get work done from anywhere Wherever your people are, online or offline, they can get to — and work with — the most up-to-date versions of the files and tools they need to get things done, and on virtually any device.

Work better together — simply Office 365 offers business-class email, shared calendars, IM, web conferencing, and access to the most up-to-date documents stored in the cloud. You can work together in real time without compromising security.
…and how Companies Consume IT.

Reduce your capital expenditure Office 365 is available as a simple monthly subscription. Avoid large up-front costs for new software while moving the cost of IT from capital to operating expense.

Be always up to date Since Office 365 is in the cloud, it is always up to date. No patches or software upgrades necessary. Microsoft is adding new value and capabilities on a monthly basis.

Cut hardware and energy costs Without servers to run for email, websites, and document storage, you can reduce energy costs and save by no longer purchasing new server hardware.

License per user Simplify licensing while providing each user access to business-critical technology on 5 PCs/Macs and 5 mobile devices. Save money when compared to traditional, per-device licensing.

Scale your business quickly Office 365 grows with you — adding a new user is as simple as buying an additional license.

License what you need Office 365 provides many plans to fit the right capability needs and price points for each user in an organization.
What is the Value to your Business?
Lower TCO, convert capital expenditures into operating expense
Higher productivity, greater scalability
Greater focus on strategic benefits
Improved uptime and reduced admin expense
Try 1-month free, quick sign-up form